Vacation to Bali with your beloved kids
, want to give them the most beautiful experience, this article is for you.
This article we take and filter from various tourist local Indonesia experience.
Why from tourist Local.?
Because tourist local is the most frequent holidays with their kids to Bali, so don't be surprised if tourist local Indonesia has a myriad of stories, experience and various recommended places for lodging, tourist attractions and more while on vacation with their kids in the
Bali island
.
10 Best Kids Vacation Activities in Bali Island
From all the information we collect and then we summarize again and certainly always update for you to get various places and activities that you can do with the child in the
Bali Island.
So, please read the
10 recommended holiday activities in Bali with kids
, make it your list or even your guide on vacation in
Bali
with your
beloved kids
.
1. Bali Treetop Adventure Park
Image by Bali Treetop Adventure Park Bedugul
It can not be denied, tourist attraction of
Ulun Danu Lake Beratan Bedugul
become a favorite tourist attraction, both domestic tourists and foreign tourists.
Bali Treetop Adventure Park
is an open-air playground and its location is within the botanical garden area of Bedugul Bali. At
Bali Treetop Adventure Park
, you and your kids can try swinging rides on high trees.
There are many different types of outdoor games in Bali Treetop Adventure Park and adjust participants' age criteria.
When trying a game ride at
Bali Treetop Adventure Park
, the guide always accompanies you and your kids. Either shows how to bypass obstacles or assist in using security equipment.
In other hand, The uniqueness of the location of
Ulun Danu Beratan temple
that looks floating above the lake surface and cool air, making the tourist spot of Ulun Danu Beratan Bedugul temple always crowded with tourist visit.
Adjacent to the tourist attraction of Pura Ulun Danu Beratan Bedugul There is a
botanical Garden
tourism Object Bali.
In the tourism object of the botanical Garden Bali, visitors can see the beautiful garden layout and there is a large tree standing tall. In addition to views of the gardens and large trees, there are activities
Bali Treetop Adventure Park
.
2. Waterbom Bali
Image by Waterbom Kuta Bali
Waterbom Bali
is the most famous and most talked about by travelers who are vacationing with their kids.
Not just children who enjoy holiday to
Waterbom Bali
, teenagers and adults also love the holidays to Waterbom Bali.
There are many water parks in Bali and Waterbom Bali it is often regarded as the best water park in southeast Asia even Asia.
Parents can be calm because the area has been specifically designed in accordance with international safety standards and strictly supervised. Relax..
But wait.. What are the rides in the
Waterbom Kuta Bali
.? Just check this out..
Waterbom Bali Rides
3. Upside Down World Bali
Image by Upside Down World Bali
In addition to holidays to tourist attractions, Indonesian tourists who are vacationing with children and families also enjoy photo activity. One photo studio that offers unique photo results in Bali the name
Upside Down World Bali
.
Currently Studio Photo
Upside Down World Bali
has added a choice of indoor holiday activities in Bali island. In this place there are 7 types of photo rooms that have different interiors and backgrounds.
In each photo room, you will see an unnatural interior layout. But once you see the photos, new you will understand the cause of the room interior looks unnatural.
4. Bali Safari Park
Image by Bali Safari Marine Park
Bali Safari & Marine Park
the largest zoo and most visited Indonesian tourists while on holiday in the Bali island. Wide
Bali Safari Park
about 40 hectares and the location is in the District Gianyar Bali.
In
Bali Safari Park
you will see 60 different types of animal species. Uniquely from Safari Park Bali, most animals like lions and tigers roam freely like they are in their natural habitat.
If the wild beasts roam freely, is it safe to see them up close..?
This question we often get from parents who have never been holiday to Bali Safari Marine Park. The
Bali Safari Park
will provide Minibus type cars specially designed to be able to see the animals, so that Safari park visitors are safe from animals especially wild animals.
The activity of seeing animals roam freely from within the vehicle, called the Safari Journey. Besides following the safari journey activity, visitors can also see the elephant Show and take pictures with the forest.
Be careful when taking your child to visit this place, because your child will usually aspire to be Tarzan after visiting this place.....
5. Bali Bird Park
Image by Bali Bird Park
If in
Safari Park Bali
you can see many kinds of animals. But in
Bali Bird Park
, you can only see birds and reptiles. Holiday activities to visit the tourist attractions Bali very suitable for the whole family, especially for children.
Because it can educate children about bird animals that they usually can only see the Ditelevisi.
Area of Bali Bird Park is approximately two hectares with a beautiful garden layout and gardens. In this bird park there are approximately a thousand types of exotic birds, either from Indonesia or birds from all over the world.
There are several types of birds that roam freely there are also those in captivity. In addition to birds, you can also see animal species reptiles in
Bali Bird Park
, such as Komodo Dragons, Python, turtle and crocodile.
6. Odyssey Submarine Bali
Image by Odyssey
Seeing the marine life in the aquarium is common, how about marine animals and coral reefs are 30 meters deep with children? The natural beauty of the underwater Bali can only be seen by experienced divers using scuba dive equipment.

However, at this time it is no longer. Tourists can already see the natural beauty of the underwater Bali East without having to be able to dive. The trick is to use a submarine.
Diving activities using submarine in Bali named as
Odyssey Submarine Bali
. Odyssey submarine dive in sea water Bali East, precisely on the beach of
Labuhan Amuk Karangasem
.
The activity of submarine tourism is very popular Indonesian tourists who vacation in Bali with children.
7. Karangasem Tree House
Image by Karangasem Tree House
Would like to invite the children to a unique tourist attraction for children in Bali, the choice is a tourist attraction
Karangasem Tree House
.
The uniqueness of Kubu Karangasem's Tree house is located in the towering house building, as well as all the materials of the bamboo-fruit House.
To be able to climb the tree house in the
village Kubu Karangasem
, you have to pass through a bridge that is also made of bamboo. The main attraction of Kubu Karangasem Tree House lies in the visible scenery of Kubu tree House.
8. Tanjung Benoa Turtle Island Getaway
Image by Turtle Island Tanjung Benoa
Most of Indonesia's tourists love to invite children to see green turtles. One of the best places to see
the green turtles in Bali
, the location is on the beach
Tanjung Benoa
. The breeding of green turtles in
Tanjung Benoa
is known as the Turtle Island Bali .
To add the fun of holidays to the breeding of green turtles in Tanjung Benoa, many Indonesian tourists choose to use the means of boats to the captive green turtles.
Name of holiday activity to Turtle Island by boat, more familiar called
Glass Bottom Boat
. While boarding Glass Bottom Boat to Tanjung Benoa Turtle Island, you and your kids can see the seabed through the glass at the bottom of the boat.
In addition, the provider of the Glass Bottom Boat rides also gives you the opportunity to feed fish amid the sea from the boat.
9. Bali Kids Rafting
Image by water-sport-Bali. com
Feel worried to join
rafting Bali with kids
! Most of the local tourists who have tried rafting activity in Bali With his kids said that it was very very pleasant.. There is nothing to worry about when you follow the activities of rafting with your children in Bali.
If you want to enjoy rafting with your kids in Bali you should know which river to choose according to your child's criteria.
Ayung River Rafting for children aged 5 – 8 years
If you have children aged 5 – 8 years, then the choice of river suitable for rafting is Ayung river Ubud.
Rafting in Ayung River has difficulty level in the II – III with small rapids and some obstacles. Rafting participants in the Ayung River Ubud will take about 1.5 hours of rafting.
When you enter the activities of Ayung River rafting, you will be able to see the waterfall view, the view of rice fields and reliefs on the wall of the river.
Please note, not all rafting operators at Ayung Ubud River receive rafting participants with a minimum age of 5 – 8 years. Below are rafting operators who accept children's rafting participants with a minimum age of 5 – 8 years.
Bali Adventure Rafting Ubud, received children's rafting participants with a minimum age of 5 years.
Sobek Rafting Ubud, the operator of rafting Sobek in Ubud, also allowed children with a minimum age of 7 years, to be able to join the activities of Bali Rafting.
Telaga Waja River Rafting for children over 9 years of age
The Karangasem Waja Telaga River
has difficulty level in grade II – IV. In addition, the participants who participated in the rafting in
Telaga Waja River
will take 2.5 hours. With the classification of II-IV difficulty, as well as the duration of 2.5 hours, this means Telaga Waja rafting is more challenging and requires extra stamina.
Because some areas of the river participants will face levels of difficulty level IV, therefore many Operator of Telaga Waja Rafting requiring a minimum participant of children is 9 years old.
In addition, access from the lobby to the river area, or access from the river to the finish point, there are a few stairs.
So if you want to rafting in Bali without having to climb or down a lot of stairs, the choice of river for Bali rafting is on the river
Karangasem Telaga Waja
.
10. Ubud Monkey Forest
Image by Monkey Forest Ubud Bali
One of the children's attractions in Bali the most visited tourist area in
Ubud Bali
is
Monkey Forest Ubud
tourist attraction.
In the tourist attractions of
Ubud Monkey Forest
There is a protected forest and in the forest there are monkeys roam freely. Most of the kids love to see the apes directly, let alone give the apes a live meal.
Favorite Marine tourism activities for children over 10 years
Recreational activities of maritime tourism or more famous as
Bali Water Sport
, you can make one of the choice of tourism activities in Bali for children who have aged over 10 years. Most of Bali's water sports activities are carried out at
Tanjung Benoa Beach
.
If you want to enjoy water sport tour in Bali, we recommend to order it online, because the price given is much cheaper than you order when in Tanjung Benoa . One of the most famous places is
Wira Water Sport Bali
.
Free shuttle will also be given for free to the game Tanjung Benoa Water Sport Bali, where the shuttle area such as in the area of Denpasar, Kuta, Legian, Jimbaran, Nusa Dua, Seminyak and Sanur.
In addition all Bali watersport games are provided, including accident insurance, to maintain your comfort. All the tools used for water tourism games, international standard to maintain your comfort and safety during the activities of water tourism.
But wait.. Besides the tourist attractions you also want to get a recommendation of a comfortable and enjoyable lodging for your child instead..? If so, continue reading this article.
Recommended accommodation with children in Bali
Hard Rock Hotel Bali
Many children love this hotel because
Roxity Kids Club
offer creative games for children in Hard Rock Hotel Bali.
The club has a play area, a viewing spot, a practice area, a sleeping area, and an adventure arena. Children can create crafts, draw, watch movies, tell stories, and try costumes. There are also games such as R Ockwall Climbing Challenge and Kids Olympic.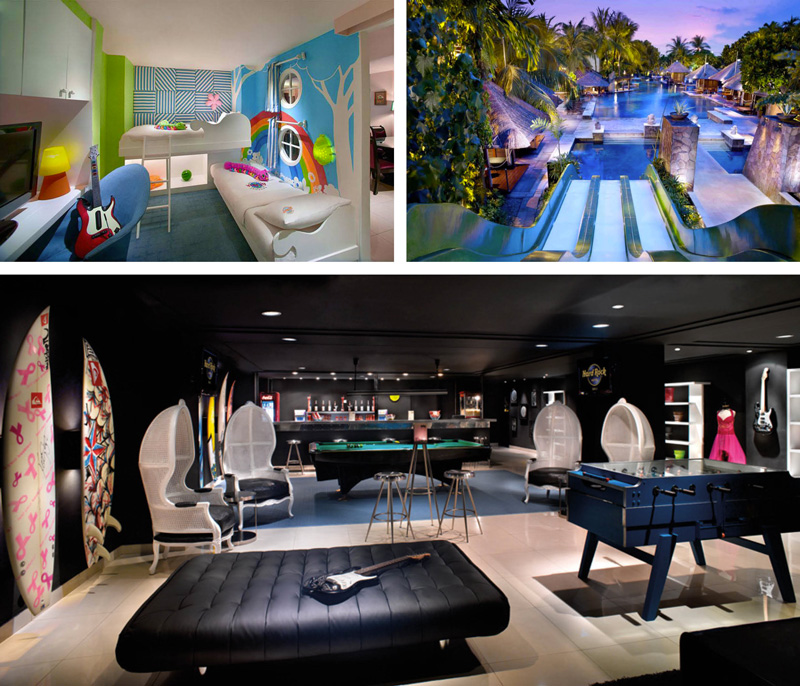 Image by Hard Rock Hotel Bali
Roxity is open from 09:00 to 18:00, for children aged 4 to 12 years old. Price for full day activities package starts from Rp 200.000. There is a price plan for 3, 7 and 10 consecutive days, ranging from Rp 500.000 to IDR 1,000,000 (includes food, drinks and gifts).
PADMA Legian
Padma Legian
, a playground located near the swimming pool. Wolly has practice areas, mini libraries, toy collections, and so on. The terrace has a safety fence separating it from the pond. Kids Club accepts children at least 4 years old.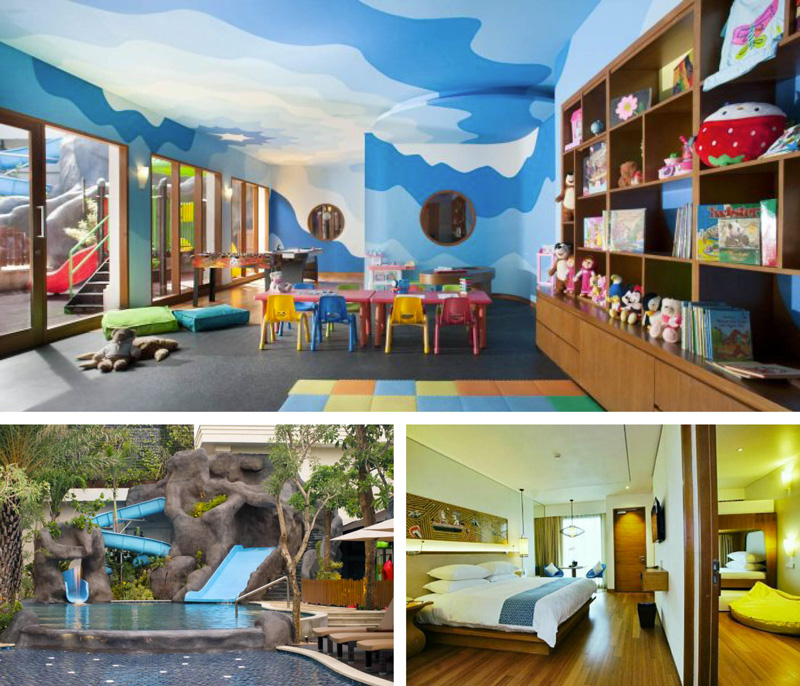 Image by Padma Legian Hotel Bali
Game Center is located next to the
Kids Club
, for children aged 6 to 12 years. It has electronic games as well as table games such as air hockey and mini-billiards. The Professional staff invites children to join activities such as coloring, craft, yoga, swimming, drawing and learning cooking.
Wolly Kids Club
and Game Center open from 09:00 to 21:00. If there is no special request, the staff provides lunch, dinner, drinks and snacks, and the price is charged to the parents ' room fee.
Westin Nusa Dua Bali
Westin Nusa Dua
has
Westin Family Kids Club
, a luxury activity centre offering creative activities and a variety of games. Professional staff will invite your child to paint faces, draw, watch movies, fish, make crafts, and stargazing!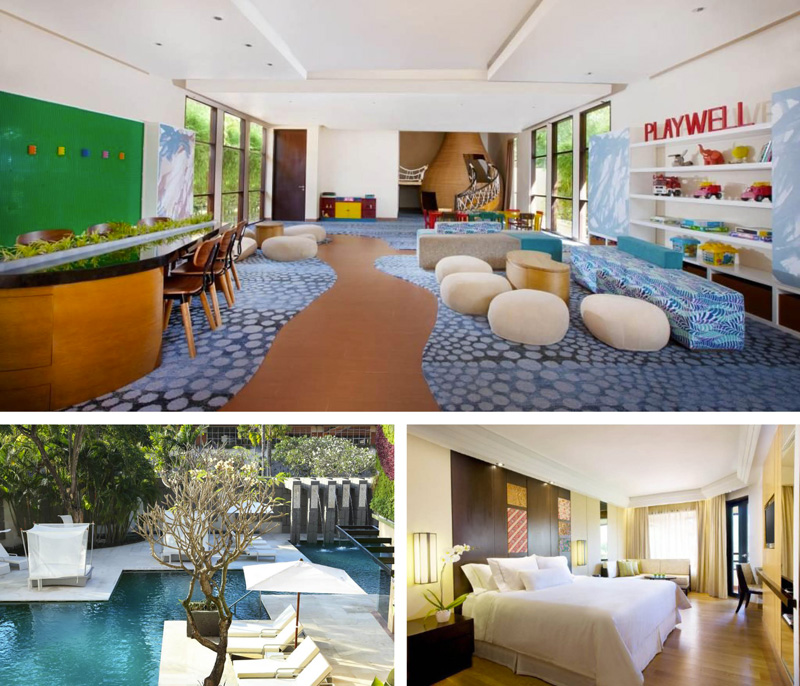 Image by Westin Nusa Dua Bali
Westin Family Kids Club suitable for children aged 4 to 12 years old. You can apply for family programs, such as Balinese dancing leskidss, cooking, and bike tours. For hotel guests, Kids Club can be used without the cost of Loh.
For those who do not stay, they will be charged Rp. 400,000 (for 4 hours) and Rp. 700.000 (to 8 hours) per child. You must register your child at least a day before arrival. Oh Yes, make sure the child wears comfortable clothes as well as sports shoes.
Bali Dynasty Resort
Bali Dynasty Resort has the
Butterfly Kiddies' Club,
which is open for children aged 4 to 12 years. The club has a playroom, a theme park Enchanted Garden, and The Den Teens Club, a special space for teenagers that is open for children aged 10 to 16 years.
Image by Whatsnewbali.com
The butterfly has an area for creative activities, a playground, a pool with slide, and a water play area (Kids Water Fun Zone). Professional staff invites children to participate in various creative activities, such as Balinese dancing, playing in groups, painting, making crafts, and playing traditional Balinese games.
The Kiddies' Club butterfly is open for children aged 4 to 12 years (ages 10 to 16 can use The Den Teens Club), and operates from 9:00 to 18:00. Children under 8 years must be accompanied by a parent or guardian.