The beauty of nature, culture, art and the sense of security offered by the island of Bali makes it one of the destinations of exotic vacations and tourism in Indonesia which are attracted by both foreign and domestic tourists. It also encourages investors to invest in the island of the gods in the form of resort construction, luxury villas, as well as restaurants with upscale standards. The rise of luxury villa development in Bali that offers beautiful natural scenery as well as a very high level of privacy, finally raises a new trend for prospective brides who want to hold a ceremony ritual in These beautiful places. The following tips for couples who plan to marry in Bali.
Couples from other countries, such as Australia, Japan, Europe who are interested in wedding ceremony in Bali often ask, whether my marriage and spouse in Bali will be recognized in my home country? Well, to prepare for marriage in Bali legally, here are the rules that need to be observed by couples of brides.
MARRIAGE IS NOT UNLEGALLY VS MARRIAGE LEGALLY
For couples who want to marry in Bali, marriage can be done both unlegally and legally. You and your spouse can be married in Bali, without having to actually marry in Bali legally, because some couples who marry in Bali are legally based on local law, usually will have a lot of additional work by doing management Many documents when returning to his country. So, many couples who choose to marry in Bali without going to dizzying the management of documents legally. In fact, as many as 30% of couples prefer to marry in Bali without taking care of local legal documents.
After all, doing wedding in Bali without legal documents will also be cheaper than having to take care of documents involving local government. Well, but this decision is all necessarily dependent on you and your spouse. On the other hand, some couples may choose to have a wedding ceremony similar to a Christian wedding ceremony or a traditional Balinese wedding ceremony. Some wedding companions from among friends or relatives of each bride and groom are also usually present to help take care of this marriage. If you want to marry legally in Bali, then your marriage must be in accordance with Indonesian marriage law. You should inquire directly with your home country's legal representative in Bali/Indonesia before wedding ceremony.
WEDDING CEREMONY IN BALI
To marry formally in Bali, you are required to hold religious and civilian ceremonies at once. Religious ceremonies and legal ceremonies must be held at the same location on the same day. Although, in recent years many couples have opted to incorporate civic ceremonies with religious ceremonies. Religious ceremonies in Islam, Hindu, Buddhist, and Christian-Protestantism can be held in homes, villas, hotels, restaurants, beaches or the purpose of the built wedding venues. Basically every place is fine, except the Balinese temple.
WEDDING CERTIFICATE
The certificate of non-impediment can be issued by the local authorities in the country of origin of the bride. Information about the management of this certificate can be obtained from each of the embassy country of origin of the bride or can use the service of your local wedding planner. However, if you and your spouse are planning to take care of themselves, countries such as Australia, United Kingdom, United States, Italy, Switzerland, Austria, Germany, New Zealand open their country representatives or consulates in Bali that can help you get Certificate of non-impediment.
HOW TO DO A LEGAL MARRIAGE IN BALI
Meanwhile, if you want to hold a legal marriage in Bali, a letter of marriage plan is required that you can get from the Civil registry office in Bali by preparing the following documents:
Passport for foreign nationals.
Birth certificate.
Letter of divorce or death certificate if this is your second marriage (adjusted to the condition of the bride).
A 4 × 6 cm photo with four pieces.
Photos of both adjacent couples (for the bride on the right side please use an open shoulder boss – in Bali such a photoshoot is already commonly done).
Certificate of non-impediment issued by consular representative for Bali or Indonesia.
In addition to these documents, both spouses are required to prepare the following documents as well:
Passport (valid for minimum 6 months from the date of entry to Indonesia).
Visas (foreigners who wish to marry legally in Bali can enter Indonesia as a tourist by using a valid tourist Visa with a maximum stay up to 30 days).
Birth certificate (must be legalized by your attorney or country's embassy in Indonesia if the birth certificate brought in the form of copy/photocopy)
Written statements stating the status of each individual (single/widow/Widower/widow).
Certificate of marriage from church (this is only necessary if the spouse who embraced the Christian is wanting to marry in the church, but if you are planning to marry in a hotel, villa, chapel, beach, and any other place other than the church, it is not Required).
Bali also becomes an attractive place for brides to spend honeymoon and pre-wedding photo shoot in Bali. Not only for local brides, Bali is also a fascination for couples from Australia, China, Japan, and Europe as a wedding location that is usually on the beach, chapel, luxury villa, or in a cliff-cliff area with a view directly towards the sea. Everyone certainly wants a wedding event to be perfect and beautiful, right? Well, for those of you who are planning to marry in Bali Island, here are the best locations to hold a wedding in Bali that will make you amazed.
BLUE DIAMOND CHAPEL BALI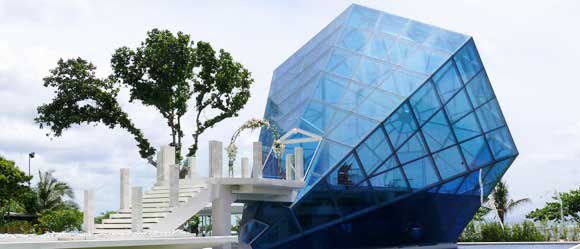 Credit: rentalmobilbali.net
With a blue diamond-like architecture, the chapel was later referred to as the Blue Diamond which has a building of about 15 meters that was built with the majority of steel and glass materials. Located in the middle of the pond, the view from inside the chapel that the majority of glass will look beautiful because it directly presents the view of Sanur Beach. Chapel Blue Diamond can accommodate up to 60 people. However, if you plan to invite more guests, the garden area neatly arranged next to the chapel will be able to use to accommodate guests up to 400 people.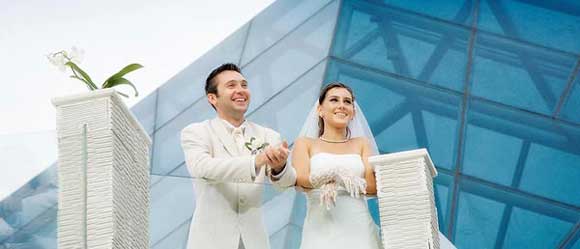 Credit: rentalmobilbali.net
Photo: The Diamond Bali
Address: Sanur Beach, Bali, Indonesia
Phone: + 62 361 287501
Email: info@thediamondbali.com >/p >
MARRIED ABOARD THE LUXURIOUS WAKA SAILING CATAMARAN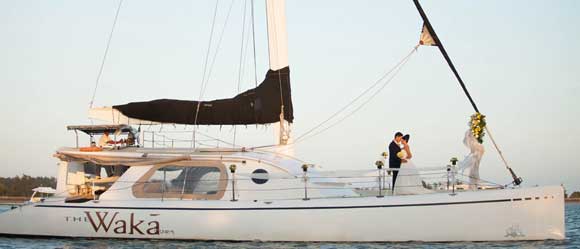 Credit: rentalmobilbali.net
Do you and your spouse include people who like different things and are excited about the adventure of presenting an important episode in your life? You could consider getting married aboard the luxury Waka Catamaran. The unique atmosphere of the boat will certainly be very effective for your wedding, but of course you have to pay attention to the waves of the sea, the weather, and the sea breeze that will hit on board.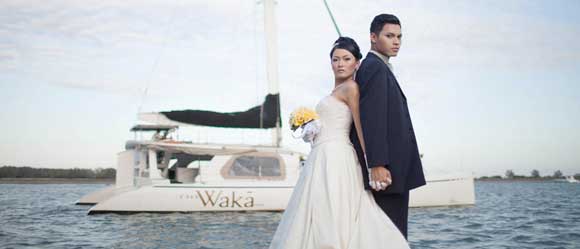 Credit: rentalmobilbali.net
Photo: Waka Sailing Catamaran (PT. WHM Indonesia)
Imam Bonjol Street 467, Denpasar 80119 Bali, Indonesia
Telephone: + 62 361 484085
ROOFTOP CHAPEL AT LE MERIDIEN BALI
Experiencing a sacred and beautiful marriage can be realized when held at the Rooftop Chapel Le Meridien, Jimbaran, Bali. The stretch of white sand on the chapel floor will feel beautiful in the afternoon changing the night with the sunlight that begins to dim. Having a building in the highest area of the Resort Le Meridien, the Rooftop Chapel Le Meridien in Jimbaran, Bali is made of a steel frame with glass walls that can accommodate up to 50 invitees.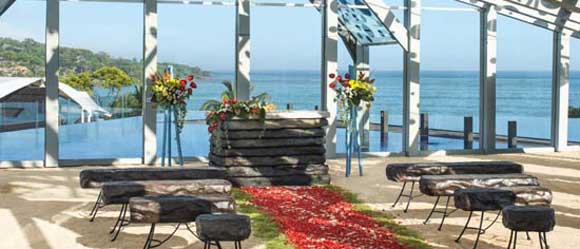 Credit: rentalmobilbali.net
Located on the fifth floor which is quite high, make this chapel more beautiful with a direct view to the vast ocean and Jimbaran beach. If you and your partner love the minimalist interior design and wooden bench with modern design, this chapel can be the right choice for your wedding. If you want to invite more guests, you can use the ballroom located opposite the chapel. The Ballroom features a unique architectural design with a majority of glass as its skeleton and fits up to 120 guests.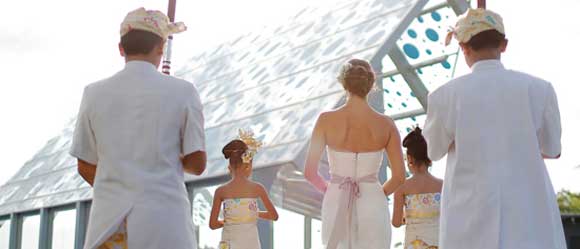 Credit: rentalmobilbali.net
Photo: Le Meridien Bali Jimbaran
Address: Jalan Bukit Permai, Jimbaran, Bali 80361, Indonesia
Phone: + 62 361 8466888
JUNGLE VIEW OVER POND WEDDING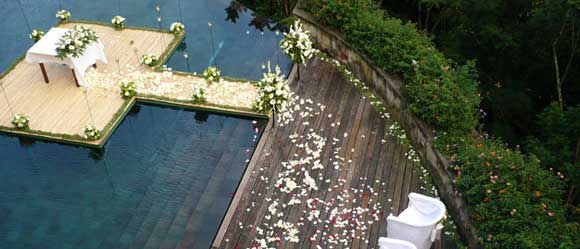 Credit: rentalmobilbali.net
Many wedding themes can be done on the island of Bali, from getting married in a beautiful chapel, marrying aboard a luxury ship, or getting married with a safari feel. Not only to stop there, Bali also presents a wedding location above the pond with a view of green forests and free nature that is soothing the hearts and eyes. This place is located by the pool Hotel Hanging Garden Ubud with a backdrop of Ayung River view in Ubud.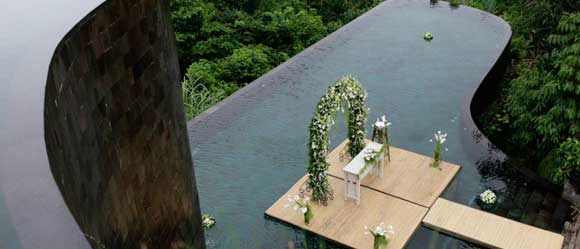 Credit: rentalmobilbali.net
Photo: Hanging Garden Ubud
Desa Buahan, Payangan, UBUD Bali 80571, Indonesia
Tel: + 62 361 982 700
FOUR SEASONS RESORT, JIMBARAN
Credit: baliholidayswedding.com
There are many beautiful places in the Four Seasons Resort, Jimbaran that can be explored for ceremonies and weddings. In one Gazebonya it is a suitable place to give a holy promise. At Residence Villa, you can have a reception with an elegant atmosphere, surrounded by gardens and in the middle there is a swimming pool. Another place that can be used as a reception place in Jimbaran Garden with beautiful beach view.
Photo: Four Seasons Resort, Jimbaran
Address: Jalan Bukit Permai area, South Kuta, Bali 80361
Phone: + 62 361 701010
ELEPHANT RIDE SAFARI WEDDING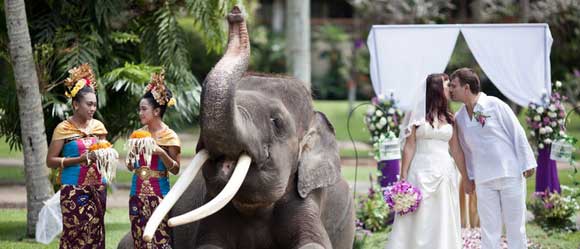 Credit: rentalmobilbali.net
If you and your partner are fond of outdoor wedding themes filled with adventurous nuance, getting married at Bali Elephant Safari Park can be your choice of wedding venue. There's no need to go all the way to going to the African continent to get a similar atmosphere in Africa, the place managed by Bali Adventure Tours can present a place of an African wedding blessing, and the bride can come to a location close to This Ayung River uses an African-style buggy or by way of climbing elephants. Uniquely, not only the bride who can experience an elephant ride at this location, all guests are welcome to surround the safari park with elephants. Is it exciting?
Photo: Bali Elephant Safari Park
Jl. By Pass Ngurah Rai Pesanggaran (80361) Bali, Indonesia
Tel: + 62 361 721480
OCEAN VIEW POOL WEDDING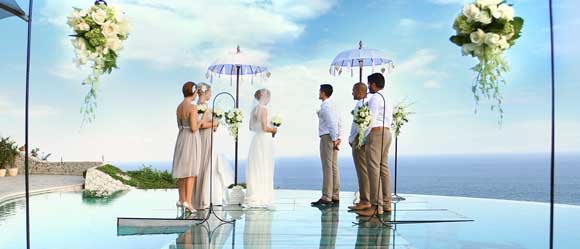 Credit: rentalmobilbali.net
Well, this place is very famous in Bali, almost every annual wedding place is crowded in the booking by the prospective brides who want to perform the wedding ceremony here. Having the name Karma Kandara, this place is a private resort that is visited by many foreign tourists for vacationers, honeymooners, and married ceremonies. With a cliff-top location dotted with Bali's ocean backdrop and a wedding over a clear pond, which bride who doesn't fall in love with this place?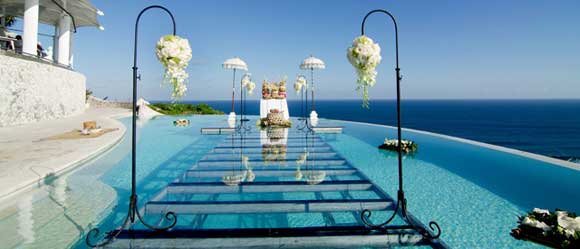 Credit: rentalmobilbali.net
Photo: Hanging Garden Ubud
Desa Buahan, Payangan, Ubud, Bali 80571, Indonesia
Phone: + 62 361 982700
Reservation Mobile: + 628113800988
THE TIRTHA ULUWATU
Credit: tirthabridal.com
Perched atop a cliff in the southern region of Bali Island, Tirtha Uluwatu presents a romantic view for a sacred wedding. With its unique triangle-shaped glass architecture that is modern, magnificent, and beautiful, this place becomes one of the favourite wedding alternatives for anyone who wants to realize his dream of getting married with expansive views to Ocean. In fact, Indonesian celebrities, such as Dewi Rezer and Marcellino Lefrandt, chose to marry Tirtha Uluwatu in Pecatu village, Bali.
Photo: Tirtha Uluwatu
Address: Jl. Uluwatu, Pecatu village 80364, Bali
Phone: + 62 361 8471151
TIRTHA LUHUR ULUWATU
Credit: baliweddingsolutions.com
Still in the area of Uluwatu there are other romantic places namely Tirtha Luhur Uluwatu. The luxury of the wedding at Tirtha Luhur is emitted from every detail of the interior with a very modern architecture. It is located on a cliff top in the southern part of Bali Island that can provide a 180-degree view of the Indian Ocean. There are also very complete facilities for prospective brides who want to spend a honeymoon time, ranging from private villa private facilities built on a land area of 3000sqm, Wedding Pavilion, indoor interconnecting and outdoor dining Locations, swimming pool and relaxation gazebo, full commercial kitchen and bar.
Photo: Tirtha Luhur
Address: Jl. Uluwatu, Pecatu, Badung, Bali, Indonesia
Phone : +62 361 8471151
Planning a survey place in the near term to prepare for marriage in Bali.?